NoŽl
If you want to use the lessons for m@ilgroups or on clubs, E-m@il me for authorisation. Do not hot-link my lessons. Distribution of documents has been permitted in absolutely no manner! All of my lessons applies ©copyright.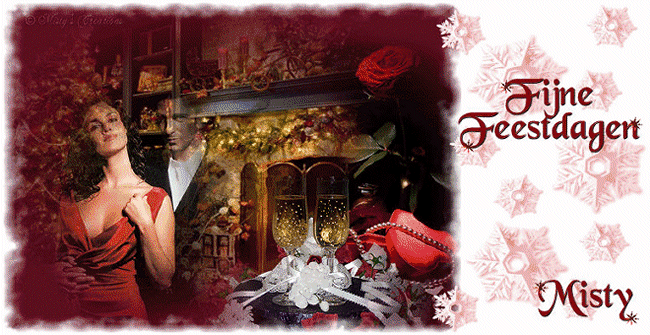 This lesson was made in PSP X but will do in all versions.
Supplies: download here
backgroundcolor #83070d or choose your own color.
Open a new transparant image 550 bij 400
Fill with your backgroundcolor./p>
Copy MC-Open haard and paste it on your new image as a new layer.
Stretch it a little with your deformationtool in length./p>
Copy MC-Champgne and paste it on your new image as a new layer.
Put it in the right bottom (see example)
Copy MC-Pearls and paste it on your new image as a new layer.
Put it on the right side above the champagne tube. (see example)
I have erased the candle but maybe you like it there.
In your layerpallet: Arrange - Move down.
Copy MC_Couple and paste it on your new image as a new layer.
Put it on the left side, but right from the Christmastree. (see example)

You can arrang the tube still if you want to, are they oke? Then merge all (flatten).

Image- Pictureframe - Special Ocassions 02
Color the list with your backgroundcolor (Shift L) I did 254-230.
But if you like the way the color is then leave it so.

Lock your foregroundcolor
Put the text on your image with a nice font.
Ik used Black Chancery 48.
Add dropshadow V & H 1 Opacity 100 and Blur 0.

Resize your image to the size you want.

If you want an animation go on here.

Copy your tag (image) in PSP, open AnimatieShop go to edit and paste as a new animation.
Find an animation you want to use (internet has lots of .gif to use.) Also I've put mine in the rar.
See for how many pictures your animation exist. Mine had 9.
Go to edit - duplicate selection, and duplicate your creation as many as the animation frames has (9)
So both have 9 frames.

Go to edit - select all.

Do the same thing with your animation and copy it. (edit - copy)
Go back to your creation to frame 1 and then:
Edit - Paste in selected frames. (ctrl+e).
Put the animation on the place you like.
Now you see that Animation Shop has copied it in all frames.
Click on

to see how the animation looks.
Click again

and your animation is gone.

To save your creation/animation: Save as and take the steps: next , next, next - next and finish.
That's all folks.
Hope you liked the lesson.


Merry Christmas and a Happy New Year
Love, Misty